News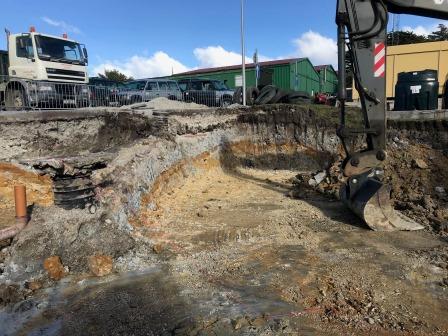 Cinema building work has commenced at the Malvina House Hotel April 2018
In March 2018 works commenced at the Malvina House Hotel on the new Cinema development. The previous laundry and stores building was demolished and now the ground works are being prepared for the construction of the new building.
The Cinema building will link through from the main hotel and will have lift access for pushchairs, prams and people with limited mobility. The cinema will be open not only to the guests of the hotel but also the public.
The 55 seat cinema has a projected opening date of March 2019, with plans to screen the latest's block buster movies along with classics and family favourites. The Cinema will be a multipurpose venue and will also be available as a conference theatre for presentations, lectures and educational purposes.
This cinema and entertainment concept is part of Stanley Services mission of reinvesting in the Falkland Islands which will be available for all the community to use for Leisure and Business.
Please keep checking the website for further updates.
Latest News