Bunkering
Stanley Services Ltd holds the Falkland Islands Government Exclusive License for the supply of bunker fuels in the Falkland Islands and its territorial waters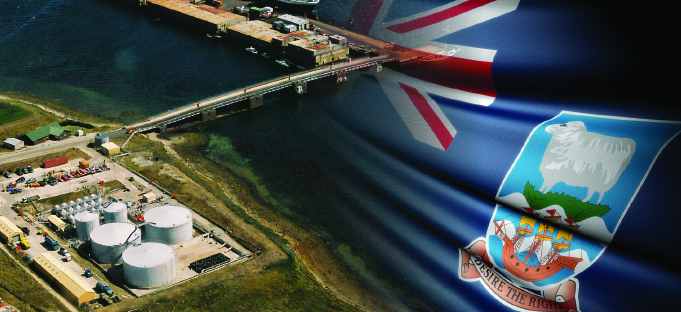 Marine Gas Oil Terminal
Stanley Services Ltd operates a Terminal with a capacity of 7,500 cubic metres of Marine Gas Oil (MGO) in Port Stanley and can supply ex-pipe along side the wharf.
365 Fishing Fleet Fuel Coverage
The Company with one of its shareholders Lavinia Corporation has created a Company called Stanley Bunkering Limited who provide 365 coverage to the Fishing Fleets in Berkeley Sound anchorage and high sea's supplying both MGO and IFO grades Bunker Fuel. There are two tankers in operation and during the height of the fishing season there are also numerous reefer vessels with large fuel capacities operating on the high seas fishing grounds in the South Atlantic.
Cruise Vessel Bunkering
Many of the increased number of cruise vessels calling during the southern summer take bunker supplies whilst alongside port in Stanley where MGO can be loaded at up to 120 cubic metres per hour. Larger vessels that require IFO that are unable to enter Stanley Harbour are supplied at anchorage in Port William by tanker or barge while passengers are ashore causing no extensions to their port call times. We also provide fuel to Fishery Protection Vessels, visiting dry cargo carriers and Antarctic research ships which complete the Customer base in these small but developing Islands in the South Atlantic.
For further information, please contact us at ggoodwin@stanley-services.co.fk or on Telephone: 00 500 22622 or Fax: 00 500 22623
FUEL PRICES: December 2023
| Domestic Fuel Price | Pence per litre (FKP) |
| --- | --- |
| Diesel | 80 |
| Kerosene | 105 |
| Unleaded/Leaded Petrol | 130 |
| LPG | 171 |
Marine Gas Oil prices $1350*(USD) per metric tonne Delivered
*Indication only please contact us for further details