News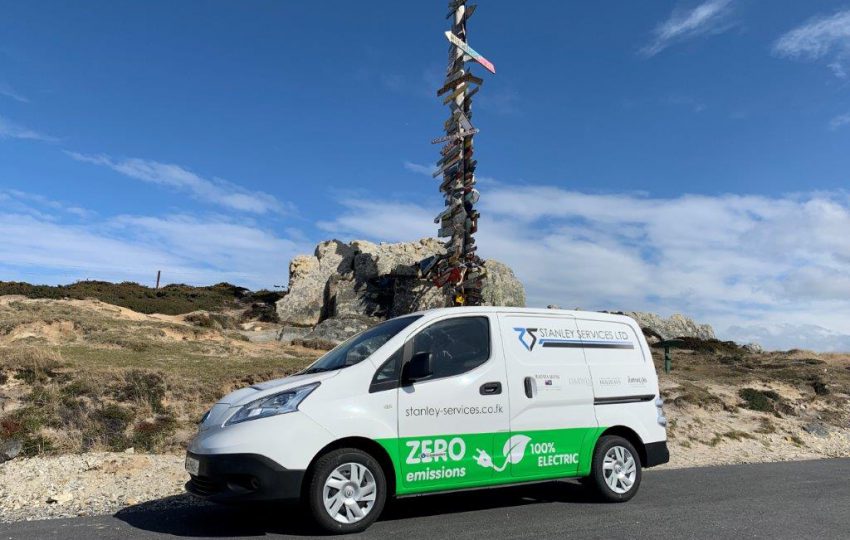 Electric mobility on the right track
September 2020
Stanley Services Ltd are pleased to announce the importation of the company's first Electric Vehicle (EV) which will be arriving in the Islands at the end of the month. Introducing the Nissan e-NV200 electric vehicle as part of the company's fleet of vehicles, we are working towards a more sustainable future. The trial of EV will be used by Stanley Services and its subsidiaries, Malvina House Hotel and Falkland Islands Holidays to commute, deliver goods and supplies around Stanley and between the business locations.
Gareth Goodwin, SSL General Manager and Director, commented: "This is a real landmark day in the move to a more sustainable future for the Falkland Islands and the community. These vehicles will change the way we operate. It isn't just a case of plugging them in and saying, 'job done'. The trial will allow us to get to know the electric vehicle, how it performs, how it drives in Falklands conditions, battery life and charging, how it is serviced and maintained. We are committed to evolving our operations and services that also reduce our environmental impact, whilst ensuring we continue to meet customer expectations".
"We are rethinking and re-engineering how we provide a modern environmental approach to commuting, transporting goods and supplies around Stanley is the start for now. In the future, procuring vehicles and by providing charging points for the public, we can help develop the optimal ecosystem to support a smooth transition to electric vehicles. It is potentially an all-encompassing revolution for vehicle sales and servicing with electric, emission-free vehicles are at the heart of that vision. Stanley Services will also be importing a number of different EV chargers to try and test them in the Falkland environment.
The difference for pedestrians when the EV is driven around town – you won't smell any emissions and you're unlikely to hear the EV, but you certainly won't miss its vehicle graphics. This is partially designed to catch your attention, as the electric motor noise is much lower than traditional combustion engines.
About the Electric Vehicle
The Nissan e-NV200 named Europe's best-selling electric van in 2016 with continual growth and the "What Van Green award" in 2019, the e-NV200 is part of Nissan's popular zero emission range, combining the best elements of two multi-award winning vehicles – the Nissan LEAF and Nissan NV200.
Not only does it offer near-silent motoring meaning there are no vibrations, no mechanical noises and no gear changes. EV powertrain with instant torque and smooth acceleration ensures stress-free journeys for drivers and noise disturbance-free deliveries and collections for residents. Single-shift transmission and Hill Start Assist make driving easier and safer. It can cover a WLTP-approved 124-187 miles on one charge (combined/city cycle) and can be rapid charged to 80% in around 60 minutes or to full in less than eight hours with a domestic wall box. The e-NV200 also makes a great solution for delivery fleets because of its 4.2m3 load space – enough for two Euro Pallets – and two sliding doors for easy access.
Latest News